How to Put Up and Look After a Bird Box

Ideally your bird box should be put in position in Autumn but, failing this, January at the latest. This will allow your box to become relatively well established before the birds start to set out their territories in February and March.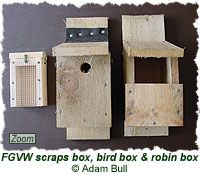 Also, should it be a harsh winter, the box will offer a cosy retreat from the elements, possibly saving the lives of some small birds like wrens and tits.
Set the box about 2.5-3.0 metres from the ground, preferably facing southwards or eastwards to afford the entrance hole some protection from the elements.
In a garden setting the general rule of thumb if you plan to have more than one box is to set them about 20 metres apart. This reduces conflicts between birds, which tend to be territorial. You should also bear in mind that there will be competition for food, and if there is not enough to go around, the parents will have to hunt further afield, using up valuable reserves of energy and possibly resulting in the failure of one or more nests.
Bird boxes and scraps boxes like the ones shown can be bought at the FGVW Annual Family Funday. You can either buy the boxes ready made, or have a go at building your own under the supervision of FGVW members. For more information about the Family Fundays, please keep an eye out on the News & Events page or see pictures from past Fundays in the Events Gallery section.
Remember - Never put food scraps out for birds during the breeding season, as parent birds will try to feed them to their young and may choke them!

Once the breeding season has finished, or by October at the latest, you will need to clean out your bird box. In order to make this easier, most bird boxes are fitted with a hinged top which can be raised to remove the contents.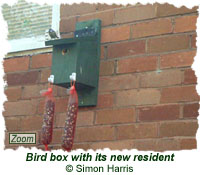 When cleaning out the bird box always wear gloves as there will probably be parasites living amongst the nesting material, and some of these may bite causing redness and itching. Once the material has been removed, it should be burnt and the box washed out with water.
If you want to make your box attractive to birds over the winter, allow it to dry out completely, then put in some dry straw, hay or wood shavings. However, remember to remove this before the end of February. You could also take this opportunity to carry out some repairs to your bird box - perhaps applying some non-toxic water based wood preservative (such as Cuprinol) to the outside of the box (never apply it to the inside).
If you have any other bird box hints and tips, or have any birdbox photographs we can use (especially if they were taken in or near the Woods themselves), please contact us.