This section of the site contains information about the Friends of Gledhow Valley Woods (FGVW) group itself, why it exists, and how it functions. You can also keep up to date with what has been happening at recent Steering Group meetings.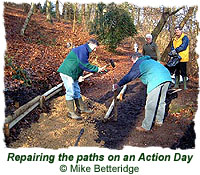 If you would like to become an FGVW Voting Member, please see the Contact Us page. Voting Membership is required in order to vote at an AGM or to stand as an officer or trustee. Membership is not needed to attend Action Mornings, Steering Group Meetings or AGMs, or to receive FGVW Update e-mails.
Please note that Steering Group meetings are open to anyone interested... check the News & Events section for details of when and where the next meeting will be held, and also to find out about other coming events.