- From the Leeds City Council "Dog Fouling & You" leaflet.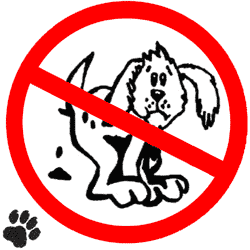 Dog fouling is consistently one of the main causes of complaint by the public to MPs, Local Councillors and Parks Managers. Our resident surveys support this, with large numbers of respondents stating that they want action against dog owners who refuse to clean up after their pets.
The Dangers
Dog faeces can carry harmful infections, principally Toxocariasis. Human Toxocariasis is a serious infection and is caught by contact with faeces carrying eggs of the parasite and can last for up to 24 months.
Frequently the infection is contracted through the hands, but can also be caught through contact with objects such as wheels of toys, soles of shoes, etc.
Toxocariasis is mainly found in children aged between 18 months and 5 years. Eye disorders are the most commonly reporte complaint although other symptoms include vague aches, diziness, nausea, asthma and epileptic fits.
The Penalty
Under the Dogs (Fouling of Land) Act 1996, failure to clean up dog fouling is an offence subject to a maximum fine of £1,000. Local Authorities can give offenders the option of paying a fixed penalty fine rather than going to court.
What Can You Do?
Avoiding the threat of fine is easy - use a doggy bag or carrier bag to pick up the faeces.
This should then be placed in a designated dog bin or general litter bin or failing that taken home for disposal. Poop scoops can be used and are available from pet stores.
No Excuse!
The following excuses are often given when owners are challenged about allowing their dogs to foul in a public place:
"There isn't a bin nearby"
"I normally pick it up but today I haven't got a bag."
"It's not my dog, I'm just looking after it."
These excuses are NOT acceptable.
Please help keep our streets and parks pleasant and safe by clearing up after your pet
Don't let your visit be spoilt by taking home a fine!