The following information was kindly provided by Jason Wigglesworth and has been reproduced with his permission.
It was Leeds dignitary James Kitson who commissioned the impressive hand-painted Burmantofts "faience" tile bathroom for Gledhow Hall in 1885. This heralded the beginning of a series of commissions by gentry hoping to keep up with the Jones'.
James Holroyd was the manager at Burmantofts when the Gledhow Hall bathroom was fitted. He began his role as manager in 1880 and had moved the business forward by promoting the production of art pottery and decorative terracotta and faience architectural features.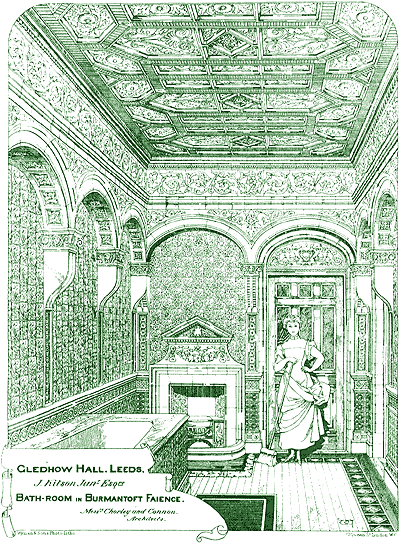 James was well educated and had established connections with pottery societies and architectural guilds. He was often invited to give lectures on the production of pottery and architectural commissions and had many articles published in the Builders News and Pottery Gazette. One of the articles published was a line drawing for the proposed treatment of Gledhow Hall bathroom in Burmantofts faience. This was published in the January edition of the Builders News.
The tiles in Gledhow Hall bathroom are typical of the period, but unfortunately these days examples of rooms decorated this way no longer exist. The tiles themselves are known as "Faience" and the name comes from the Italian word "fienza". Faience became a generic word used for glazed terracotta but is not a true representation of faience.
Burmantofts faience glazes were all lead based and allowed for a range of colours. Burmantofts employed a variety of potters who came from other potteries to work at the factory. A group of these potters were employed just for their modelling and decorating skills. One of the more accomplished potters was W. J. Neatby who eventually went on to be head potter at Doulton of Lambeth. The main modeller to note was E.C. Spruce who dealt with the large architectural pieces.
Spruce eventually left the pottery to study sculpting in Paris in the late 1890's. On his return to Leeds Spruce was asked by James Kitson, then 1st Baron of Airdale and Leeds first Lord Mayor to produce a bust of himself. Spruce finished the bust of Kitson 1n 1911 and can now be seen in the main hallway of the Civic Hall in Leeds.