Gledhow Valley Woods:
Introduction
Gledhow Valley Woods is a ribbon of woodland and grassland that runs for about 1.5 kilometres through a suburban area of north Leeds. Its size is approximately 23.4 hectares (57.8 acres). The current tree population was originally planted in the 19th and early 20th centuries to meet local industrial needs.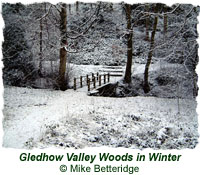 The steep sided valley is entirely surrounded by housing and the busy Gledhow Valley Road cuts through the middle of the woodland. A small stream known as Gledhow Beck flows along the valley which empties out into Gledhow Lake.
The area has considerable nature conservation value. Despite the pollution in the stream and lake the valley has numerous features of interest including:
Much of the valley is designated by Leeds City Council in the Leeds Unitary Development plan as Leeds Nature Area (LNA 42) reflecting its importance to wildlife and local people.
Extensive area of wood that is noted as Ancient Woodland.
Part of the SE corner of the woods has recently been designated a Regionally Important Geological Site because of Elland Flag exposures of Carboniferous age rock (about 300 million years old).
Over 184 species of plants have been recorded, and 74 species of fungi.
Over 115 birds have been recorded including 40 species breeding and around 30 resident species.
The almost intact remains of an open air bath house stand in the bottom SE corner of the valley dating from 1681.
In 1820 J.M.W. Turner painted part of the valley.
Gledhow was once spelled "Glaedhow". The middle English word for a kite, "milvus milvus" was "glaed". In recent years, the glaeds have returned to Glaedhow!
Many of the above features can be explored in more detail in other parts of this web site.