Go back to Examples of How the Friends are Making a Difference menu
Nestbox Scheme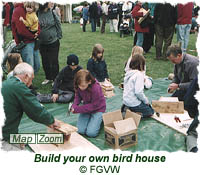 The Gledhow Valley Nestbox Scheme began in 1989 with the intention of encouraging birds that might otherwise not be able to breed in the valley. So far the scheme has been very successful and there are over 70 nestboxes in place in the woodland either side of Gledhow Valley Road. The boxes have resulted in several thousand blue tit, great tit and nuthatch fledglings over the years, as can be seen on the Nestbox Records page.
Children who attend the annual Family Funday event, organised by the Friends group, can build their own bird boxes to take away and set up in their own gardens.
To find out more about the many species of birds found in and around the woods, please see the Birds of Gledhow Valley and Bird Stories sections. For details of the next Family Funday, as well as other Friends events, see the News & Events section, and for more pictures of what goes on during these events see the Events Gallery.