Summer 1990:
Local Patch Birding
The following article was written by Martin Calvert and originally printed in the RSPB Leeds Local Group Newsletter). It has been reproduced with his permission.
These days with rare birds only a telephone call away with the arrival of Birdline, the enjoyment of local patch birdwatching seems to have diminished somewhat in status.
For me, the regular watching of the area of woodland either side of Gledhow Valley Road, Leeds provides rewarding birds throughout the year. Dippers and redwings in Winter, blackcaps and little grebes in Summer, there is always something different to watch.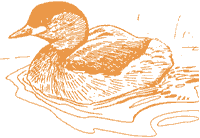 Over the last few years, the average species list for the year has been 56 out of a life list of 67 species. Nothing remarkable about the total when you can see 80 birds in a day at some RSPB reserves. However, it is an excellent total when you consider the limited habitat, consisting of woodland (much of it dense beech) with a small lake, but very few scrub areas.
A year tick for Gledhow is an occasion in itself and the first pied wagtail of the year means more to me than travelling miles to see a bird that somebody else has found. Yes, a 'Gledhow' life tick is indeed a special event, but they are becoming harder to find.
However, there are still birds possibly overdue an appearance. Not the bluethroats and woodchat sthrikes of this world, but if, for example, a marsh tit, spotted flycatcher, green woodpecker or even a rook put in an appearance, then the celebrations would start.
Each year provides highlights and occasional disappointments. Fortunately 1990 has provided life ticks in willow tit, skylark, sand martin, and after absences in 1989, whitethroat and garden warbler. Sadly, the 1989 woodwarbler did not pass through in May this year and there has been no geese visiting so far, unlike the 1989 visits from greylag, canada and barnacle.
No kingfisher sightings since August last year is disappointing, but the resident dipper last Winter partially made up for that. Then there is always the notable residents to watch for like Sparrowhawk, little grebe, grey wagtail, nuthatch and tawny owl.
Local patch birding is very enjoyable and I do recommend it. Just choose a local area, not too big in size and try to watch it as regularly as possible on anything from a daily to weekly or even monthly basis. Keep records of your sightings and your 'patch' year and life lists will soon start to mount up.
'Happy patchwatching'.

For a complete list of birds recorded in Gledhow Valley, including many pictures, please see The Birds of Gledhow Valley section.
If you have any information, stories, pictures or memories you would like to contribute to this section of the web site, please contact us.