Winter 1994:
Gledhow Valley Bird List Research
The following article was written by Martin Calvert and originally printed in the RSPB Leeds Local Group Newsletter). It has been reproduced with his permission.
I started watching Gledhow Valley in 1986 and have recorded 78 species in what is basically woodland (much of which is dense beech) and a lake. There is very little in the way of scrubby areas, so I thought 78 species was a good total.
The area doesn't produce rarities bur semi-rarities such as wood warbler, lesser whitethroat, cuckoo, lesser spotted woodpecker, woodcock and, most recently, goldeneye are found. The area provides good year round birdwatching.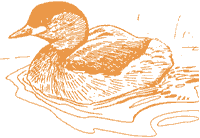 I decided to research the birds of Gledhow Valley (the land either side of Gledhow Valley Road between Roundhay Grove and Allerton Grange Way) using the Leeds and District Birdwatchers Club reports from issue 1 in 1951 to the present day, kindly lent to me by the esteemed local ornithologist Mr. Ernest Sterne and the advice of long standing Yorkshire birder and Gledhow resident Miss Gillian Granger, this list is now expanded to 103 species, which include fly over sightings.
Part of the Gledhow Valley area used to be more open and thus there are old breeding records of grey partridge, barn owl, little owl, spotted flycatcher and redstart. These birds are no longer seen, not even on passage.
The fly over sightings added to the list are cormorant, swan species, pink-footed goose, buzzard, osprey, greenshank, curlew, whimbrel, golden plover, oyster-catcher, snipe, rock pipit, tree pipit and hawfinch.
Other records since 1951, not yet seen by me, are red-legged partridge, green woodpecker (everybody has seen one in Gledhow Valley except me), pied flycatcher, marsh tit, reed bunting and tree sparrow.
There are four other sightings in the Gledhow area which are yellow wagtail, wheatear, whinchat and ring ouzel. Thus there is scope for further additions to the Gledhow Valley List.
I consider 103 species to be an excellent total for a small green oasis in suburbia. There may be other species to add to the list. If anyone can help, their comments would be much appreciated. There must be other birds to come. Target species include common sandpiper, a definite swan species, firecrest and the four species seen in the surrounding area.

For a complete list of birds recorded in Gledhow Valley, including many pictures, please see The Birds of Gledhow Valley section.
If you have any information, stories, pictures or memories you would like to contribute to this section of the web site, please contact us.